Cuts to Services Will Harm a Generation of Children
03 May 2023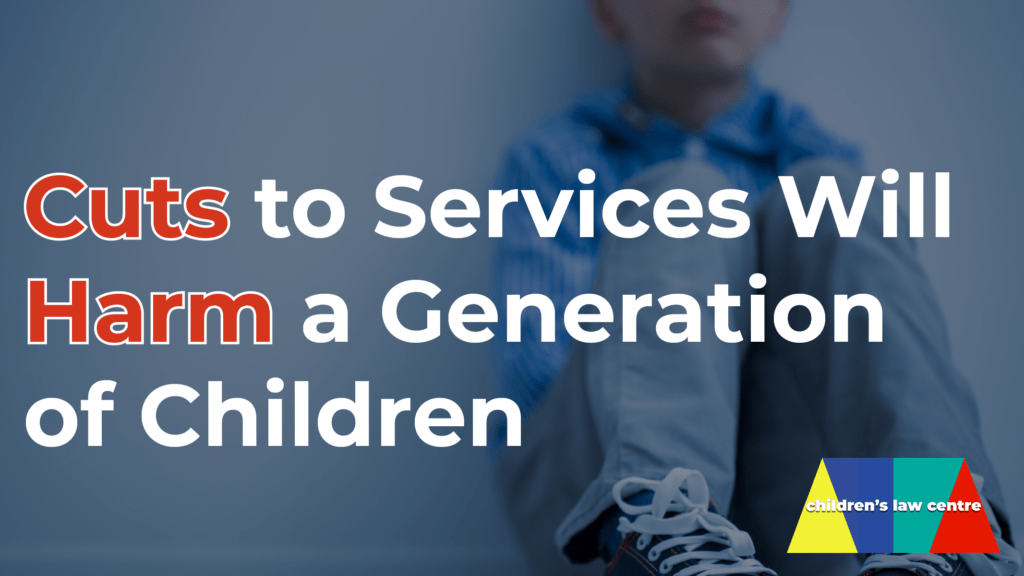 Over 200 organisations and individuals write to Secretary of State for Northern Ireland calling for a reversal of recent budget decisions
Concern raised around potential breach of statutory duties and failure to assess the impact of decisions
We have now stopped accepting signatures and are updating the Secretary of State for Northern Ireland, Chris Heaton-Harris, with the final list of endorsements. Thank you to the 200+ who signed the letter. We will continue to work to protect children from harm
Over 200 organisations and individuals have jointly signed a letter written to the Secretary of State for Northern Ireland, Chris Heaton-Harris, raising concern around the impact of budget decisions and cuts to services. The letter urges the Secretary of State to reconsider the budget decisions and immediately assess the impact on children and young people.
After submitting the letter, Fergal McFerran, Policy and Public Affairs Manager at the Children's Law Centre, said:
"The budget and the cuts to services flowing from it will cause active harm to a generation of children and young people. We have had weeks of announcements signalling cuts to children's support and early intervention services that will cause significant long-term harm to many.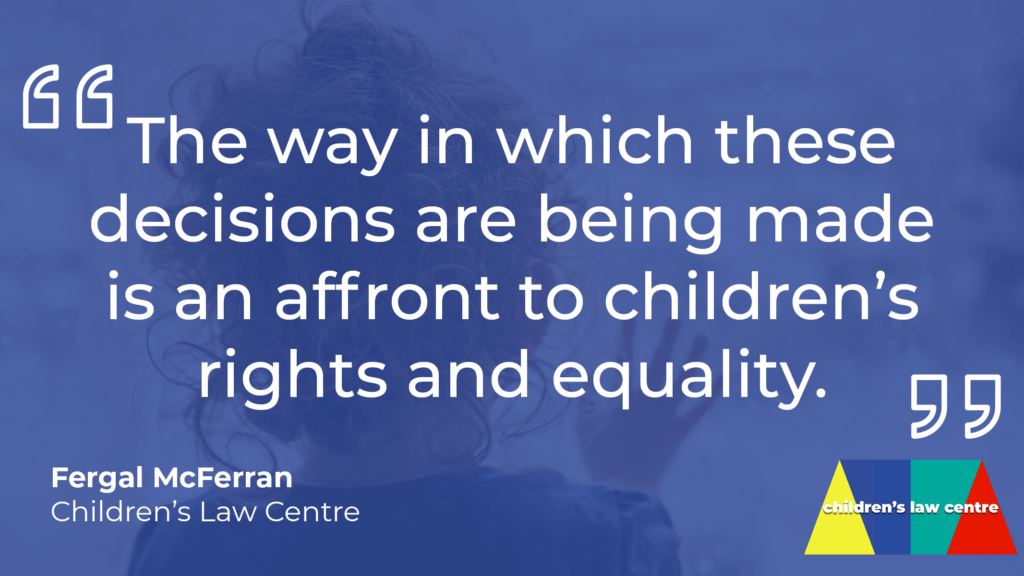 "The way in which these decisions are being made is an affront to children's rights and equality. Despite having a statutory duty to assess the impact and to protect children, particularly children who are disadvantaged or have additional needs, these services are the first to go.
"Many children and young people, as well as their parents, guardians and carers, are already at breaking point. There is a crisis in mental health for our young people, a complete failure around services for children with special educational needs and disabilities, and unacceptable numbers of children living in poverty. Yet, budget decisions are targeting these groups of children directly.
"Rather than cutting children's services, we must look at how we better protect our children and young people. We should be strengthening laws to ensure they have full access to services that support their survival and development. We should be making decisions that are in their best interests, rather than knowingly subjecting them to future harm."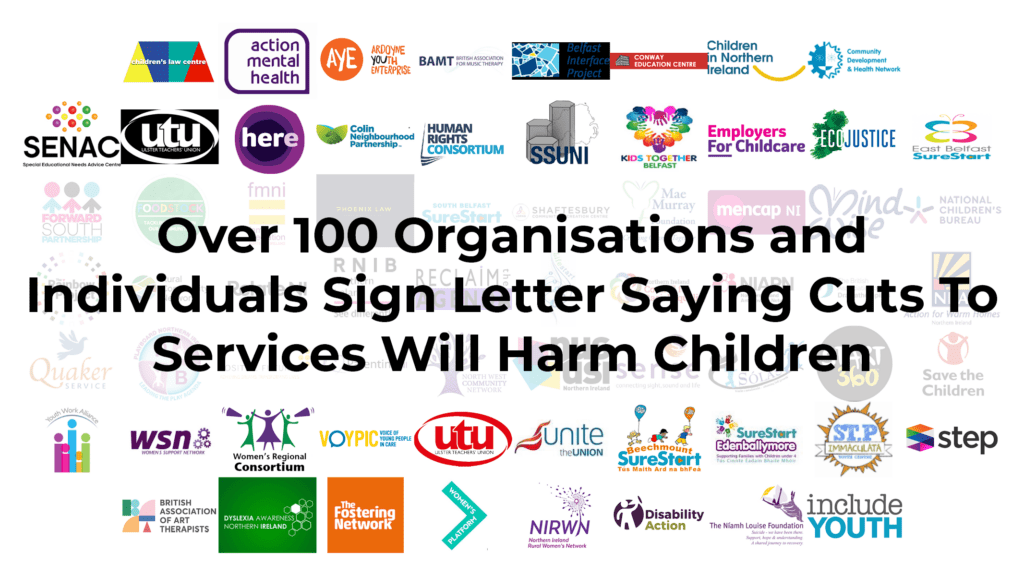 The full list of endorsements include:
Acrewood Daycare
Action For Children
Action Mental Health
Advice NI
Altram
An Droichead
Angel Eyes NI
ARC Healthy Living Centre Ltd
Ardoyne Youth Enterprise
BAAT (British Association of Art Therapists)
BACP (British Association of Counselling and Psychotherapy)
BADth (British Association of Dramatherapists)
BAMT (British Association for Music Therapy)
Barnardo's NI
BASW NI (British Association of Social Workers Northern Ireland)
Beechmount Sure Start
Belfast City Council
Belfast Interface Project
Bishop Street Youth Club
Blackfort Adolescent Gestalt Institute
Bloomfield Community Association
Breda Academy
Cara-Friend
Carrickfergus Hub Improving Lives Locally (CHILL)
Chartered Institute of Housing
Cherish Sure Start
Children's Law Centre
CiNI (Children in Northern Ireland)
Cliftonville Community Regeneration Forum
CO3 (Chief Officers 3rd Sector)
Colin Early Intervention Community
Colin Neighbourhood Partnership
Common Youth
Community Development & Health Network
Contact
Conway Education Centre
Corpus Christi Youth Centre
Creggan Youth Drop-in
Crumlin Ardoyne Neighbourhood Renewal Partnership
CyberSyd
Disability Action NI
Dyslexia Awareness NI
Early Years
East Belfast Sure Start
EastSide Learning
Ecojustice Ireland
Employers for Childcare
Enagh Youth Forum
Engage Project
Extern
Family Mediation NI
Focus The Identity Trust
Foodstock
Footprints Women's Centre
Forward South Partnership
Foyle Down Syndrome Trust
Full Service Community Network
Giggles Early Years
Glenbrook Sure Start
Glen Community Parent Youth Group
Greater Shantallow Area Partnership
Greenway Women's Centre
Harberton Special School and Outreach Services
Hazelwood Integrated College
HERe NI
Holy Family Youth Centre
Holy Trinity College
Holywell Trust
Human Rights Consortium
Include Youth
Ionad Uíbh Eachach
Kids Together Belfast
Lagmore Youth Project
Law Centre NI
Lifestart Foundation
Longtower Youth Club
LORAG (Lower Ormeau Residents Action Group)
Mae Murray Foundation
Matchbox Youth Club
Melted Parents NI
Mencap
Menstruation Matters Belfast
Mid and East Antrim Borough Council
Migrant Centre NI
MindWise
Mornington Community Project
NAHT NI (National Association of Head Teachers NI)
National Autistic Society NI
National Children's Bureau
National Education Union
National Energy Action NI
NDCS (National Deaf Children's Society)
Nexus
NI Council for Racial Equality
NICVA (Northern Ireland Council for Voluntary Action)
NI Rural Women's Network
Niamh Louise Foundation
NIAPN (NI Anti-Poverty Network)
NIBPS (Northern Ireland Branch of the British Psychological Society)
NIPSA (Northern Ireland Public Service Alliance)
North West Community Network
Northwest Youth Services
Northern Ireland Women's Budget Group
Northern Ireland Youth Forum
NUS-USI (Nation Union of Students – Union of Students in Ireland)
Our Streets Derry
Parent Action NI
Parenting NI
Parkview Special School
Phoenix Law
Playtime Day Nursery Eskra
Playboard
Poleglass Community Association at Sally Gardens
Positive Futures
PPR (Participation and Practice of Rights)
Quaker Service
Queen's Students' Union
Rainbow Child and Family Centre
Reclaim the Agenda
Relate NI
Relatives for Justice
Relax Kids Belfast
RNIB NI (Royal National Institute of Blind People)
Rural Community Network
Saól Úr Sure Start
Save the Children NI
SENAC (Special Educational Needs Advice Centre)
Sense NI
Shimna Integrated College
Simon Community
Sleepy Hollow Group
Sólás Special Needs Charity
South Belfast Sure Start
SSUNI (Secondary Students' Union NI)
St. Mary's Christian Brothers' Grammar School
St. Mary's Limavady
St. Mary's Youth Club, Creggan
St. Peters Immaculata Youth Centre
St. Ronan's Primary School Newry
Start360
STEP (South Tyrone Empowerment Programme)
Surestart Edenballymore
Sustrans
The Bytes Project
The Fostering Network
The Larder Belfast
The Rainbow Project
Trussell Trust
UNISON
Unite the Union
UTU (Ulster Teachers' Union)
Voice of Young People in Care (VOYPIC)
West Belfast Partnership Board
WheelWorks Arts
Whiterock Children's Centre
Women's Regional Consortium
Women's Resource and Development Agency
Women's Support Network
Women's Aid Federation Northern Ireland
Women's Platform
Youth Engagement Service
Young Enterprise NI
Youth Work Alliance
Youth Action NI
Youth Empowerment And Resilience (YEAR) Project
Youth First Youth Club
Youth Initiatives
Adrian Walsh, Principal, St. Colm's High School, Belfast
Alan Law, Chairperson – Education Trade Union Group – NIC-ICTU
Ciaran White BL
Deborah Erwin, Youth Engagement Consultant
Deirdre McAliskey, A Way With Words
Deirdre Shakespeare, Harry's Law
Dr Bronagh Byrne, Senior Lectuer in Social Policy, Queen's University People
Dr Ciara Fitzpatrick, Ulster University
Dr Deena Haydon
Dr Dominic McSherry, Reader in Psychology, Ulster University
Dr Fiona Bloomer, Senior Lecturer, Ulster University
Dr Gillian Kane, Lecturer in Law, Ulster University
Dr Karen Hagan, Open University
Dr Karen Orr, Stranmillis University College
Dr Liam O'Hare, Queen's University Belfast
Dr Lucy Royal-Dawson, Ulster University
Dr Raied Al-Wazzan
Dr Siobhán McAlister, Senior Lecturer in Criminology, Queen's University, Belfast
Dr Suzanne Mooney, Senior Lecturer in Social Work, Queen's University Belfast
Dr Una Convery, Lecturer in Criminology, Ulster University
Emmet McAleer, Independent Councillor
Goretti Horgan, Senior Lecturer in Social Policy, Ulster University
Jackie Redpath, Greater Shankhill Partnership
Katrina Crilly, Principal, St. Patrick's College, Maghera
Koulla Yiasouma, Former NI Commissioner for Children and Young People
Madeleine Leonard, Professor Emeritus, School of Social Sciences, Education and Social Work, Queen's University, Belfast
Phil Scraton, Professor Emeritus, School of Law, Queen's University, Belfast
Professor Andrew Percy, Queen's University Belfast
Professor Anne-Marie McAlinden, Queen's University Belfast
Professor Colin Harvey, Queen's University Belfast
Professor Laura Lundy, Queen's University Belfast
Professor Rory O'Connell, Ulster University
Professor Victoria Simms, Professor of Developmental Psychology, Ulster University
Sinead Kyle BL