16 June 2022
Human rights and children's organisations in Northern Ireland are calling on the Police Service of Northern Ireland (PSNI) to stop the use of controversial spit hoods, also known as spit and bite guards, ahead of an expected move to make their use permanent.
Amnesty International, Children's Law Centre, the Committee on the Administration of Justice and Include Youth say the continued use of spit and bite guards may be in breach of equality legislation and therefore be unlawful.
The mesh hoods, designed to be placed over detainees' heads, were 'temporarily' introduced in March 2020 as an emergency Covid measure. But subsequently the chief constable backtracked, accepting there is no medical evidence that the hoods prevent the virus's spread.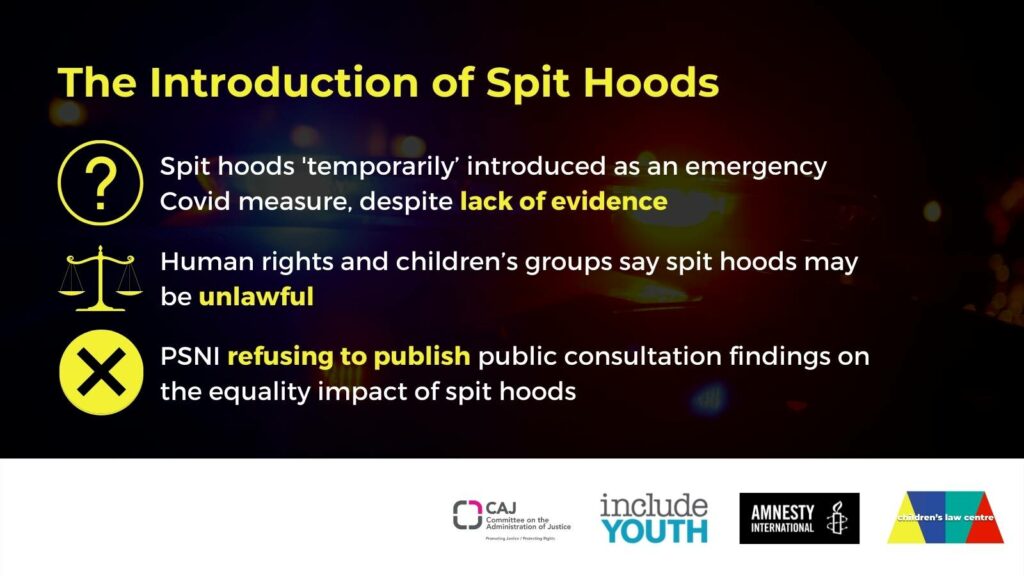 The joint call comes a year after a public consultation on the spit hoods' equality impact – the PSNI has so far refused to publish the findings. Previous equality screening data from the police shows a disproportionate use of spit hoods on people with disabilities and on people from a Catholic community background and also revealed their use on children.
According to PSNI data, between 16 March and 31 December 2020, spit hoods were used 84 times: 81% against people with a disability, including a mental health disability, and 48% against people from a Catholic community background compared to 20% against people from a Protestant community background.
A response to a subsequent freedom of information request by the Children's Law Centre revealed that from 16 March 2020 to 11 November 2021, spit hoods were used 16 times on under-18s, despite a policy against their use on children.
Even though the Northern Ireland Policing Board recommended their immediate phasing out in its November 2020 report, Review of the Police Service of Northern Ireland (PSNI) Response to Covid 19, PSNI Chief Constable Simon Byrne has instead expanded their use, issuing spit hoods to 4,000 additional police officers. The Policing Board has now called for the devices only to be used under stringent conditions.
In February 2022, the Policing Board published a review of their use, issuing 21 recommendations for the PSNI to adopt and implement. To date, the Chief Constable has not made clear whether the PSNI will adopt and implement any of the Policing Board's recommendations.
Patrick Corrigan, Northern Ireland Programme Director of Amnesty International, said: "The Chief Constable rushed to deploy spit hoods with zero evidence that they prevent the transmission of Covid-19. Then he doubled down on that flawed decision, in defiance of the Policing Board, issuing them to thousands more officers. Now we fear that he is about to attempt to make their use a permanent feature of policing in Northern Ireland, despite the Policing Board's and civil society groups' serious human rights concerns.
"The police have not met the threshold for the necessity and proportionality for this type of use of force. Given serious concerns around potentially dangerous physical and mental impacts, particularly on vulnerable groups, spit hoods need to be withdrawn from use."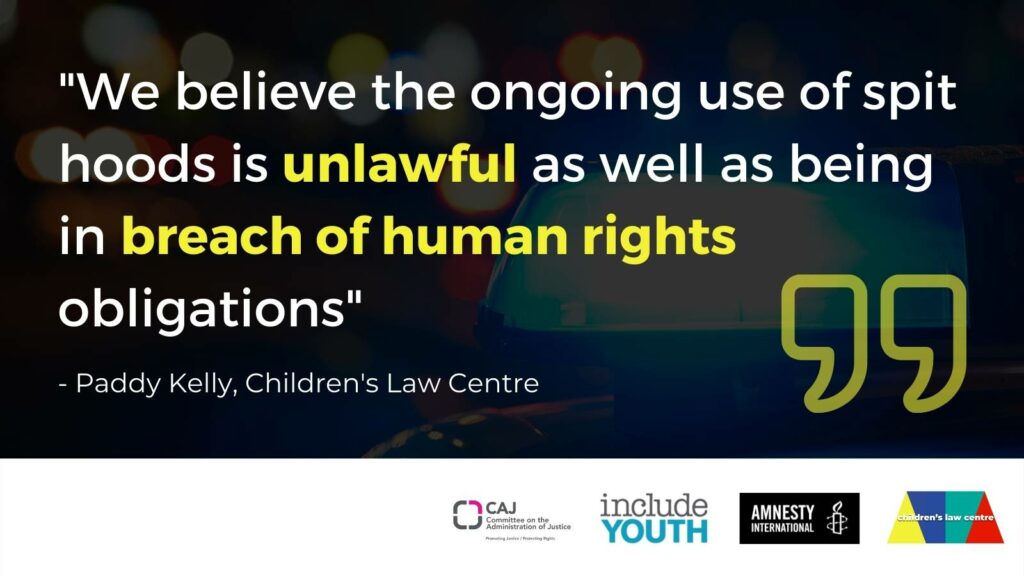 Paddy Kelly, Director of the Children's Law Centre, said: "The Children's Law Centre is extremely concerned that spit and bite guards have been regularly applied to children since their introduction. We are further alarmed at how little care has been taken to adhere to the PSNI's own equality duties throughout the past number of years regarding their use.
"The PSNI introduced spit hoods without undertaking an equality impact assessment and have now failed to publish the equality impact assessment results a full year on from it being conducted. We believe their ongoing use is unlawful as well as being in breach of human rights obligations.
"Their use on children is even more concerning given that children who come in contact with police are more likely to have a disability, mental ill-health or a learning disability. It is unclear how a police officer using a spit hood on a child can know if a child has a learning disability or suffers from serious mental ill health. Indeed, early analysis shows that protected groups are more likely to be adversely impacted by the practice. Their use should cease immediately."
Read More