28 November 2022
Experts and children address event in support of raising the age of criminal responsibility to 16
Raising the age would remove a considerable number of children from the justice system
A Department of Justice NI consultation is due to close on 23 December 2022
The current age of criminal responsibility in NI is ten, one of the lowest in Europe and the developed world
Queen's University Belfast, Centre for Children's Rights, the Children's Law Centre, Include Youth, NIACRO and Voice of Young People in Care (VOYPIC) have jointly called on support for raising the age of criminal responsibility in Northern Ireland to 16, with no exceptions.
The call came at an expert led event titled 'Stop Criminalising Our Children' hosted today (Monday 28 November) at Queen's University, where attendees heard from a range of experts, including children themselves.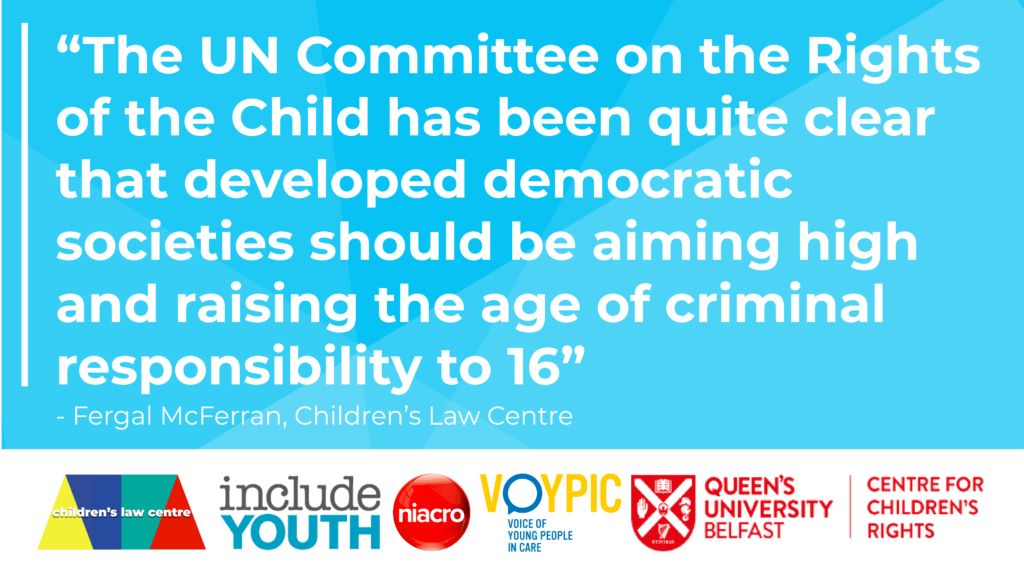 The event was organised in response to the Department of Justice NI's consultation on whether the age of criminal responsibility should be raised in Northern Ireland. The five organisations believe this is the right opportunity to lead the way and raise the age to 16, with no exceptions. This would bring Northern Ireland in line with best practice, protect vulnerable children who are being failed, and provide better outcomes for society.
Speaking about Northern Ireland being well behind international standards, Fergal McFerran, Policy and Public Affairs Manager at the Children's Law Centre said:
"We're failing our children and young people in Northern Ireland by criminalising them at such an early age. We're also hugely out of step with international children's rights obligations. The UN Committee on the Rights of the Child has been quite clear that developed democratic societies should be aiming high and raising the age of criminal responsibility to 16. Indeed, as far back as 2008, the then Chair of the Committee made that very point at the Children's Law Centre annual lecture."
Highlighting the impact criminalising children has on their lives, Dr Paula Rodgers, Policy Coordinator from Include Youth added:
"As a rights based charity for children and young people, Include Youth are concerned about the impact of criminalising children from aged ten. As well as increasing their chances of moving further in to the justice system, it can alienate them from society, create barriers to education, future employment and have huge implications on their mental health.
"Research has proven time and time again that criminalising children does not work. A low age of criminal responsibility that seeks a criminal justice solution to welfare issues, poverty, adverse childhood experiences and trauma simply accelerates already vulnerable children into the system. A needs based approach that focuses on trauma and rehabilitation can not only help the child or young person, but the whole community."
Calling for better preventative strategies to divert young people from the criminal justice system, Fiona Greene, Chief Executive of NIACRO, said:
"NIACRO fully supports raising the minimum age of criminal responsibility to 16. Raising the age would make a significant impact in removing the numbers of children entering the criminal justice system and ensure they are supported, and not punished, and behaviour is addressed. It would also support the expansion of evidence based Early Intervention services and programmes and demonstrate a commitment to trauma informed practice.
"We need to see movement on this crucial issue now, our children deserve to see movement."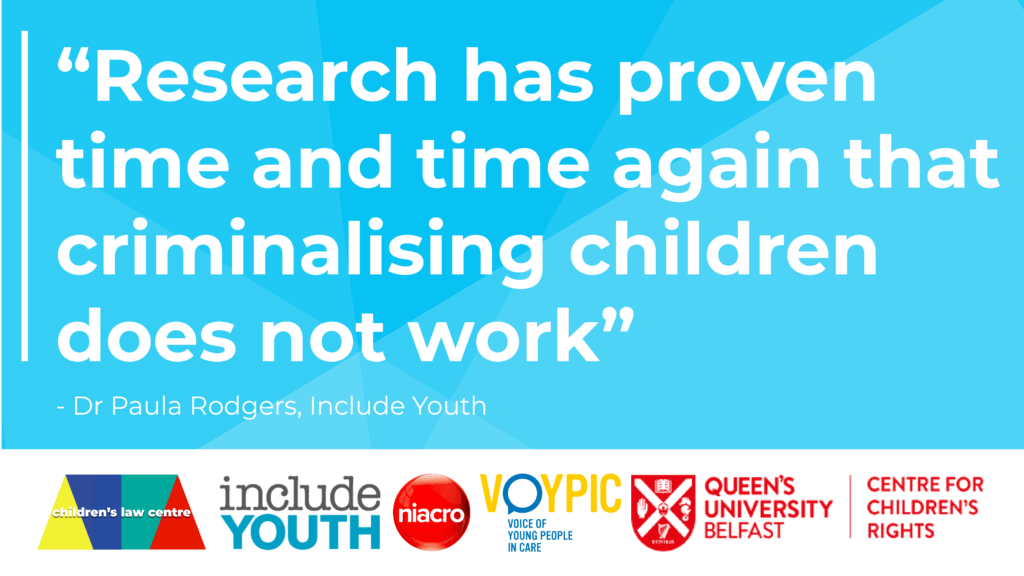 With one in three children detained in the Juvenile Justice Centre having experience of care, Alicia Toal, Chief Executive of VOYPIC said:
"Research tells us that children in the youth justice system come from our most deprived and disadvantaged communities. Those with speech and language difficulties, poor mental health, or living in care, are more likely to be over-represented among this group of children.
"Raising the minimum age of criminal responsibility is one clear step we can take to redress this discriminatory approach, stop the criminalisation of children in care, and build a safer and fairer community for everyone."
Dr Siobhan McAlister, from the School of Social Sciences, Education and Social Work at Queen's University Belfast said:
"The Centre for Children's Rights at Queen's welcome this public consultation on raising the minimum age of criminal responsibility in Northern Ireland. It is long overdue. We retain one of the lowest ages of criminal responsibility in Europe. The event hosted at Queen's provides an opportunity to influence this public consultation by presenting some of the evidence demonstrating why raising the age of criminal responsibility is the right and necessary thing to do."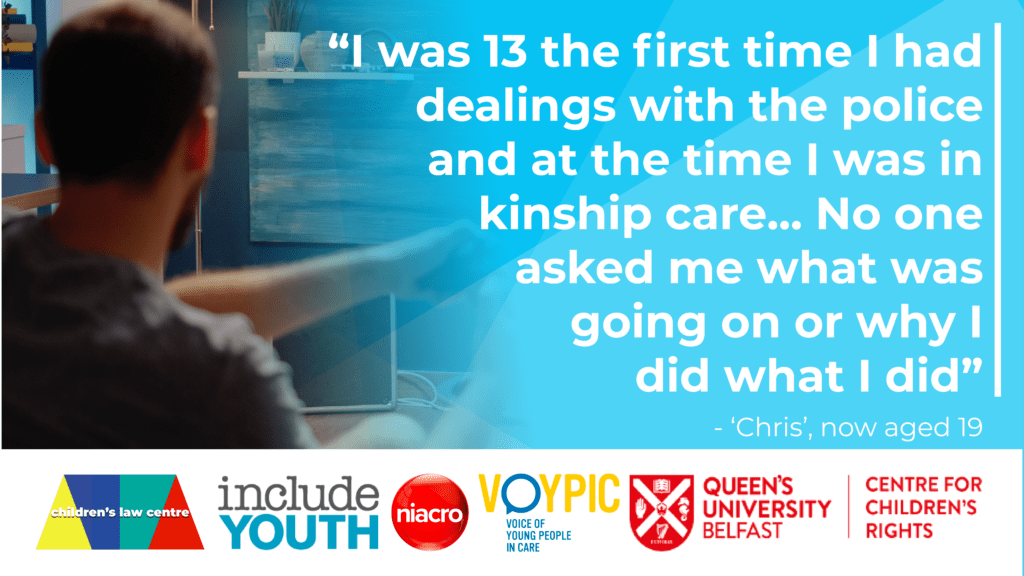 Young people with experience of the criminal justice system have added their voice to the calls
'Chris', now aged 19 said:
"I was 13 the first time I had dealings with the police and at the time I was in kinship care. I was told I was in a lot of trouble, but no one asked me what was going on or why I did what I did.
"This was the start of my mental health getting bad. I was in consistent fear of being stopped by the police and everyone where I'm from thinking I was a bad kid.
"At that age you do stupid things you don't realise the impact. If someone who was nice and could understand and help kids learn what would happen if they did these things or find out why they did do them and help them so they don't do it again."
'Mark', now 18, had a similar experience:
"I felt peer pressured, I didn't know right from wrong at that young age.
"I was doubting myself and I don't think any 13 year old should feel threatened because they are not educated on policing and law and order."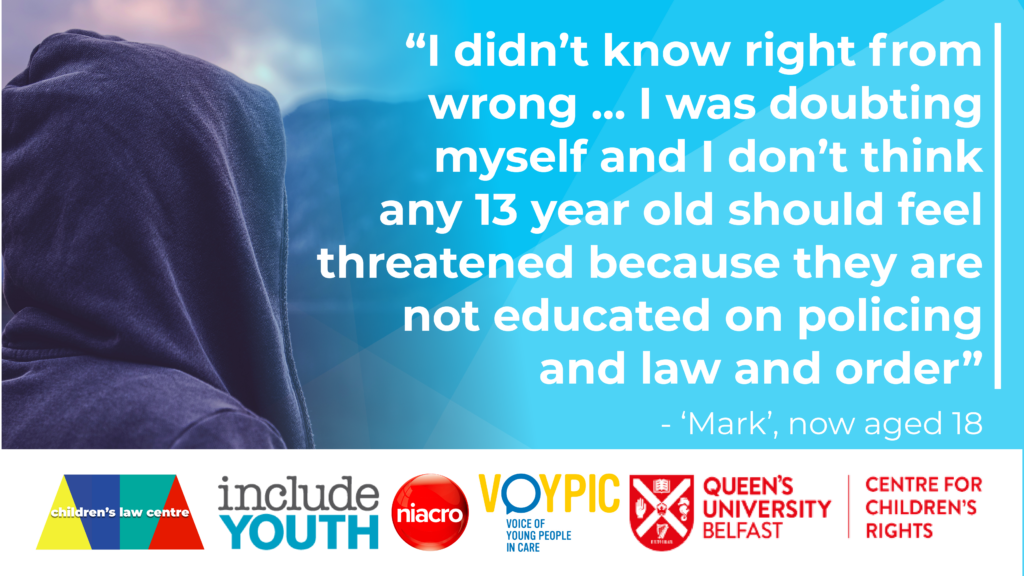 Key Statistics
According to government figures, there were 456 individual children aged 10-15 years old referred to the Youth Justice Agency Services in 2021/2022.
Of the 106 individual children in custody in 2021/2022, 33 were subject to a Care Order and 3 were Voluntary Accommodated.
There were 1,057 10-15 year old children recorded as having received prosecutions at court and out of court disposals in 2021.
The cost of holding a young person in custody during 2020-21 was £190,206 (expressed as the cost per place including corporate overheads) or £829,988 when expressed as the cost per occupant. Government figures from the Department of Justice, reveal that the one year proven re-offending rate of young people for custody release was 16 out of 20 young people. Non-custodial disposal with supervision was 45.6% | Non-custodial disposal without supervision was 38.6% | Diversionary disposal was 21.5%
Read More